Environment
The environment plays a huge role in the success of the people of CUMI. Be it following the Values in the way we work, or taking care of the machines for maintenance, or giving back to society around us. Few of the highlights in this area are given in External and Internal Environment:
Five Lights
The Spirit of the Murugappa Group is inspired by a set of enduring values and beliefs called the 'Five Lights' – a guide to everyday excellence. It clearly defines a way of life, and is demonstrated by these strong values we live by: Integrity, Passion, Quality, Respect and Responsibility.
click here to view the 5 lights
Internal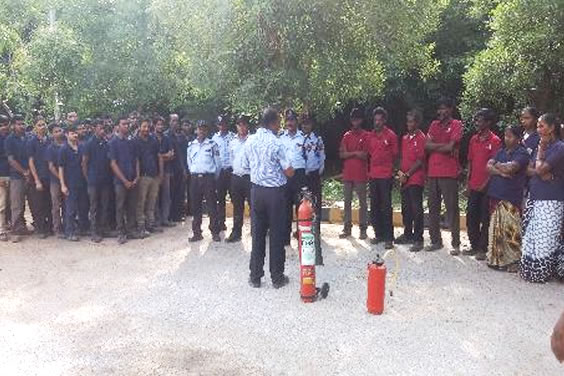 Safety And Health
We at CUMI, are committed towards Occupational Health & Safety of our employees and interested parties & shall make efforts to create, maintain & continually improve the safety and healthy working condition. This will be achieved through - Total commitment of the management towards elimination of occupational injury, ill health & safety risks; Complying with applicable legal & other requirements that relates to Occupational Health & Safety hazards; Creating Safety and Health awareness among employees through training and communication.
We are committed to be an Eco-friendly organization and shall strive to protect, preserve and improve our environment through continual improvement of the operations for achieving better environmental performance; Optimizing usage of energy and other resources; Minimizing waste generation and disposing appropriately to reduce impact on environment; Complying with environmental legislations and regulations and other requirements to which the organization subscribes; Creating environmental awareness among all those who work for and on behalf of the organization; Protecting employees by improving safety standards and monitoring health on periodic basis.
External
Click here to view our latest publication on CSR initiatives.
Caring For The Society
The Murugappa Group is known for its tradition of philanthropy and community service and its philosophy is to reach out to the community by establishing service-oriented philanthropic institutions in the field of education and healthcare as the core focus areas. In line with the Group's philosophy, CUMI as an organization has supported and engaged in activities that aim to improve the organization's contribution to society. The company has initiated infrastructure development in schools, hospitals by donating equipment and organizing health camps in and around its office locations, factory premises and other venues.
Honing Skills, Helping Lives
Planned to address the manpower & Skill shortage for the Manufacturing Sector at large, as a part of the bigger picture, CUMI Center for Skill Development (CCSD) was set up with the goal of providing free education and skill-training to deserving students from the underprivileged section of society. The objectives include uplifting the economically downtrodden students by enhancing their employability; Build people capability for the future through a customized training model; & to address skilled manpower shortage. Running its 4th year of operation, the centre operates from Hosur & Edapally, CCSD believes in providing the right environment to candidates who emerge from deprived backgrounds and hone them to meet the future skill challenges of the world and not just for the organizations skill need. The Centre works closely with NGOs, Rotary and Lions Clubs and various institutions to help reach out through various means and modes to deserving candidates from various challenging backgrounds at rural locations. Thus, CUMI is "Honing Skills, Helping Lives" through this initiative.