Ceramic Tiles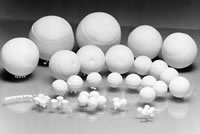 We supply grinding media and ball mill liners to the ceramics tile industry.
CUMITUFF Grinding Media
The most important requirement for wear resistant ceramic materials are:
High hardness
Good resistance to deformation
Sufficient toughness i.e. resistance against crack formation and its propagation.
Of all other alumina materials, CUMITUFF fulfills the above requirements excellently
High hardness ensures prolonged resistance to chipping and cracking. Long term benefits are attractive with CUMITUFF media as it is a cost effective alternative to conventional media. Media replacement and make-up charge levels drop significantly with the use of CUMITUFF Alumina Ceramic media.
CUMITUFF Mini - Media
CUMI offers grinding media of size less than 6 mm made by a unique pelletisation process for ultra fine grinding requirements such as in the paint industry. Typical sand mill users can benefit from the use of CUMITUFF Mini-Media by virtue of its non-contaminating characteristics.
CUMITUFF Mill Liners
Using CUMITUFF Mill Liners operating times can be achieved higher than conventional mill linings by 30% depending upon properties of material being ground.
Combination of CUMITUFF grinding media and mill liners will effectively solve your grinding problems.